Web Design
Website Design
Web Design
generally refers to everything you see and interact with at the front-end of a website; the look and feel, the layout, and the usability. Building a website involves several processes including: the design of your logo, the coding of interactive functions, and the optimization of your content for Google and other Search Engines.
Responsive Web Design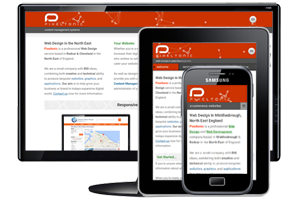 Responsive Web Design
enables your website to fluidly adjust its layout to fit the device on which it is viewed. Thanks to recent advances in web technology, modern browsers now support
Responsive Web Design
. In CSS3
media queries
allow the web page to use different CSS styles according to the device's width, height and orientation. So ultimately your website will work perfectly on
Desktop Computers, Tablets,
and
Mobile Phones
.
Logo and Layout Design
It's important to make a good first impression
. Your brand identity determines how you or your business are perceived and a first impression can go a long way to holding the attention of a potential customer. A
strong logo
and
clean layout
can elevate your business or brand above the competition in todays competitive digital market. If you already have a logo or you have specific ideas about how your website should look, that's fine too, we'll work with you to incorporate your ideas.
Functionality
Your website should be fast and fluid
. A lot of online custom is lost through a poorly performing website. The website should load quickly and allow for easy navigation. Interactive content such as Web Forms and Image Galleries should be intuitive and easy to use.
Programming Languages Used:
HTML (markup language)
Javascript (client-side scripting language)
PHP (server-side scripting language)
CSS (cascading style sheets)
WebGL (graphics library)
Location and Areas Covered:
We're a Global Company but remain very proud of our humble roots and like to support local businesses and individuals as much as possible.
Based in
Marske
, we provide
Web Design
in the whole of the
North East
including the following local towns: